Discover more from Pekingnology
Quality China Content
Over 12,000 subscribers
Guest Post: Does Chinese funding really account for more than 70% of all coal plants built today?
"Chinese-funded projects accounted for only about 11% of the world's newly operating coal power projects."
Your Pekingnologist came across 中国退出海外煤电的实际和象征意义 on FTChinese.com via its Chief Editor Wang Feng the other day.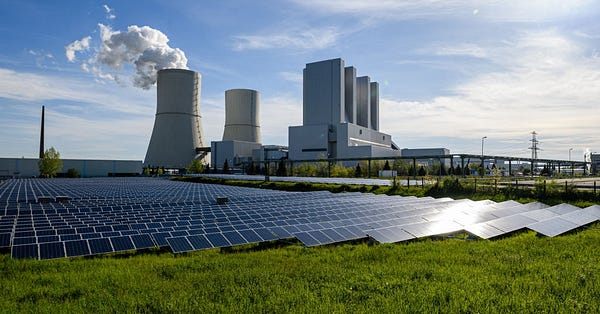 ftchinese.com
中国退出海外煤电的实际和象征意义
谭浩:由于对统计口径的可能误解,中国资金在海外煤电项目中作用或被高估。尽管如此,中国退出海外煤电项目还是具有强烈的象征意义和重要的引导作用。
Upon closer reading, your Pekingnologist approached Tan Hao, who generously went on to author an English piece for publication in this newsletter.
Does Chinese funding really account for more than 70% of all coal plants built today?
By Hao Tan
The announcement of President Xi Jinping on 21 September that "China will not build new coal-fired power projects abroad" immediately attracted great attention from media, politicians, and commentators around the world.
The US Special Presidential Envoy for Climate John Kerry called China's move a "great contribution". Alok Sharma, President of COP26, the 26th United Nations Climate Conference, commented on Twitter that "the writing is on the wall for coal power". News reports from the Guardian and Al Jazeera referred to the announcement as "a big line in the sand" or a "real game-changer".
The significance of this announcement is closely linked to the role of Chinese funding in coal power projects around the world. Many news reports and analyses, such as those in Bloomberg, Politico, and The Economist, said: "more than 70% of all coal plants built today rely on Chinese funding" or something equivalent.
The claim that "more than 70% of all coal plants built today are reliant on Chinese funding" appears to have come first from Refinitiv, the global provider of financial market data and infrastructure, as "sponsor content" on QUARTZ, the business news site, in December 2019.
Other Western mainstream media and opinions appear to have subsequently floated the same figure, sometimes attributing the source to the Global Energy Monitor (GEM), specifically from its Global Coal Public Finance Tracker (GCPFT) website. Refinitiv also said in the "sponsor content" that GEM is a source of its numbers.
GEM is a US-based independent research group and its GCPFT website is one of the most widely used data sources for analyzing the financing status of coal power projects. The data is being constantly updated on the website.
According to the latest data under the category of "finance closed" – referring to projects that have been financed, 75 GW of coal power projects outside of China have received support from public finance institutions in China since 2010.
Under the same category, public finance institutions in Japan, South Korea, France, United States, and Germany financed 23.6 GW, 13 GW, 9.5 GW, 4.8 GW, and 2.8 GW of foreign coal power projects respectively. Other countries, including India, Italy, Russia, and South Africa, also contributed funds to a small number of coal projects.
Taking together, 57% of coal power projects that received foreign funding involved financial supports from China. While this figure is not exactly as the same as 70% as reported in media, they are not completely incomparable.
Yet, there is a major problem. The GCPFT data specifically refer to coal-fired power projects receiving foreign funds. In other words, projects that are fully financed by domestic sources do not appear to be included in these statistics.
We have sourced the latest GCPFT dataset from GEM. Our results taking into account all coal power projects that have been built in recent years paint a very different picture.
According to our analysis, China provided financial support to a total of 81GW of coal-fired power stations worldwide from 2009 to 2020. Of the total, 43GW of coal-fired projects have been in operation, 24 GW are currently under construction, and the rest are either in the planning phase or had been altogether canceled.
Meanwhile, a total of 335 GW of coal-fired power projects outside of China have been completed during this period. In other words, in the past 12 years, Chinese-funded projects accounted for only about 11% of the world's newly operating coal power projects. Only in three years (2013, 2018, and 2020), more than 20% of the completed coal power projects involved Chinese funds. In seven of the 12 years, China-funded overseas coal-fired power projects accounted for less than 10%.
Our analysis also shows that financing from China in coal projects overseas has already been in clear decline in recent years. During 2015- 2017, 31 GW of coal-fired power projects received funding support from China, compared with 18 GW during 2018-2020.
These results suggest that the close links between China and new coal projects outside China may have been exaggerated.
In addition to the possible error in using a wrong denominator in some of the previous calculations, the disparity of estimates on China's involvements in coal power projects around the world may also be because many previously announced coal-fired projects involving Chinese funds have since been canceled. The GEM data reveals at least 45 GW of coal-fired power projects that initially involved funds from Chinese public finance institutions eventually did not go ahead.
Our results are in line with other analyses, such as those by Boston University and the International Institute for Green Finance (IIGF) of the Central University of Finance and Economics (CUFE) in Beijing. However, their estimates are of different timeframes or focus.
For example, the Boston University Global Development Center's report says: "While China is the last remaining public financier of overseas coal plants for sure, Chinese financing is involved in just 13 percent of the coal power capacity outside China that is operational or under development between 2013 and mid-2019 (17 percent of those in operation and 11 percent of those under construction or planning)...87 percent of total (public and private) finance for overseas coal plants is funded by entities outside China."
Based on data from GEM, the IIGF also reported early this year: "More than USD65 billion of Chinese-backed coal-fired power plants have been either shelved, mothballed or canceled since 2014, with more projects seeing delays in construction."
Despite a much smaller share of Chinese-funded coal power projects than what some have previously suggested, China's new pledge is still significant. The other two major overseas coal power investors, South Korea and Japan have announced this year that they will no longer fund overseas coal power projects. After China's latest announcement, coal-fired power projects around the world are unlikely to receive public funding support from any foreign countries.
After stopping funding coal power projects abroad, China will be shifting its focus on investing in renewable energy projects, especially among the Belt and Road countries. This new position of the Chinese government will also play an important role in guiding investment from its private sector. Therefore, China's withdrawal from overseas coal-fired projects will alter the market expectations and has a substantial impact on the dynamics in the global energy sector.
(Hao Tan is an associate professor with Newcastle Business School, University of Newcastle Australia, and a researcher on energy transition in China. The author thanks Global Energy Monitor for providing the data; and his colleagues John Mathews, Elizabeth Thurbon, and Sung-Young Kim for their comments on an earlier draft of this piece.)